"BEING THERE"
Biographie des 4-maligen Weltmeisters und Multitalents des Motorsports
Hugh Anderson aus Neuseeland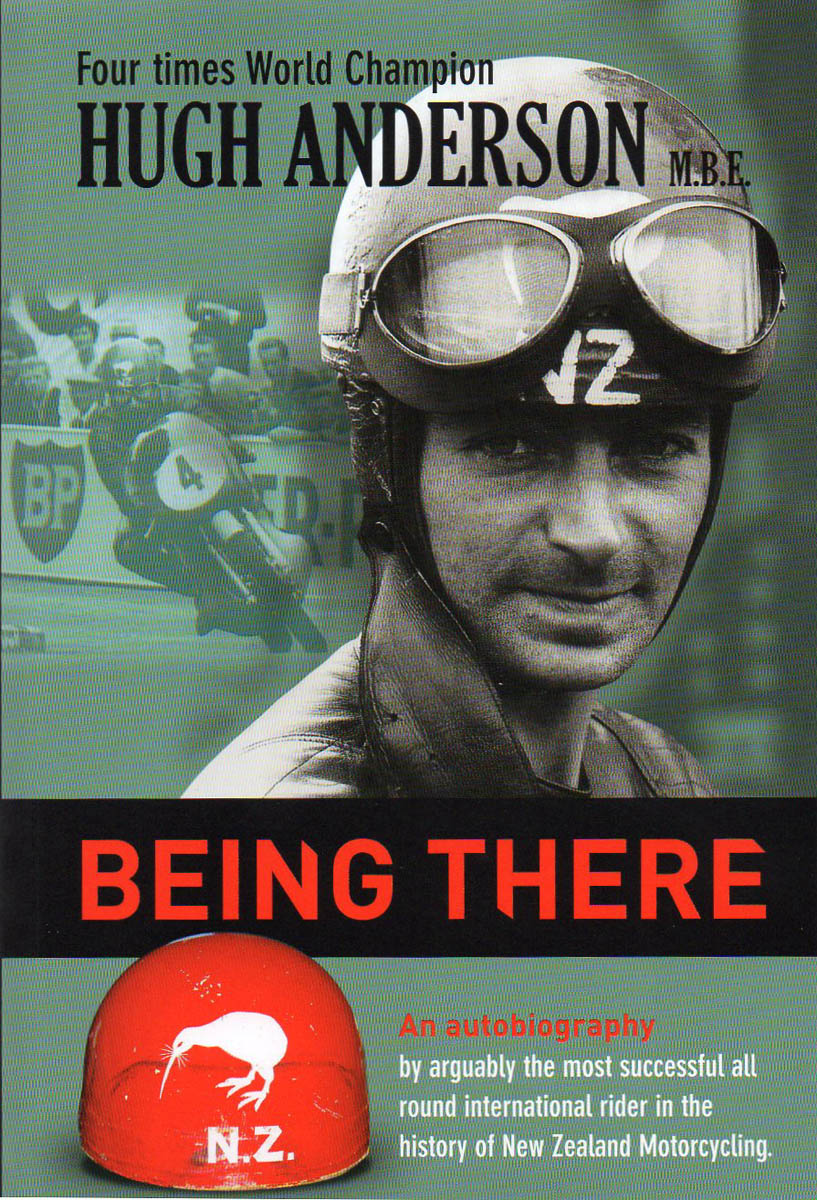 Four-times world Grand Prix Champion Hugh Anderson has finally published his life story. His autobiography, titled Being There, takes the reader inside the mind of one of the most resourceful, brave and analytical riders in the history of Grand Prix motorcycle racing. Virtually all of the 325 photographs used, have not been previously published.

From humble origins as a teenager working on the family dairy farm and later at the local coal mines in New Zealand, to the heights of world domination, he explains in his own words the motivation, racing strategies, psychology of winning, heartache and triumph that helped him deliver Suzuki its first major Grand Prix successes in the 1960s. And he remains to this day Suzuki's most successful road racer.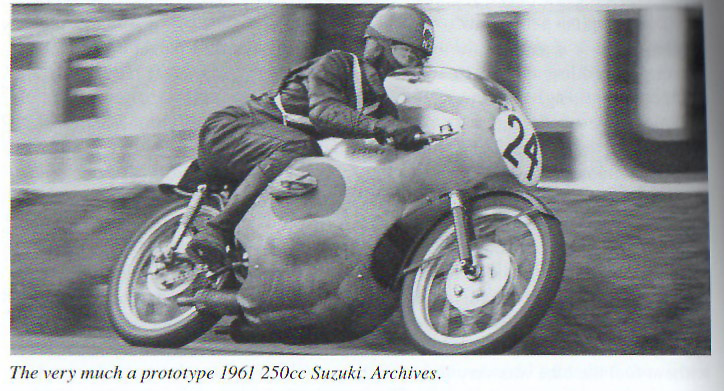 This was a golden age, where Japanese and European factories battled for supremacy on the world's most dangerous circuits. Where technological changes saw two-stroke and four-stroke motorcycles compete in 50cc, 125cc, 250cc, 350cc and 500cc classes. The two-strokes eventually dominated and Hugh Anderson was one of the first to win a world championship on these new motorcycles, going on to win 25 Grand Prix and gaining 47 podium positions, making him, at the time of his retirement, the 6th most successful rider in the history of Grand Prix racing.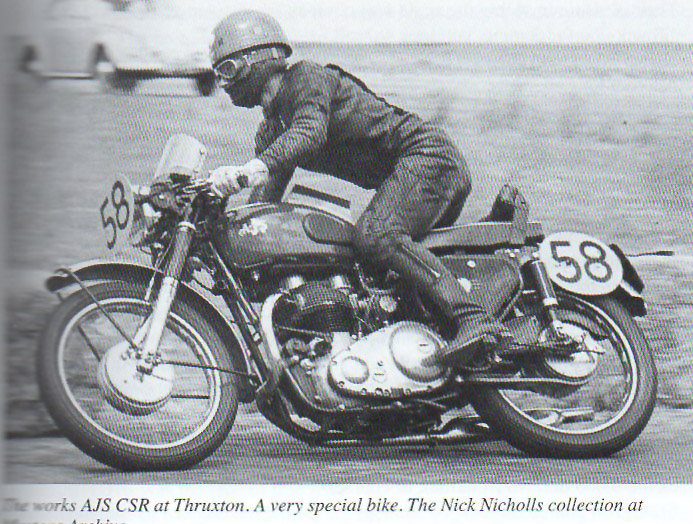 His career continued for decades after, developing Suzuki's highly successful motocross machines then enjoying three successful motocross seasons in France gaining over 40 top four positions in international events. After returning to New Zealand at the end of 1969 Hugh won 19 National and North Island in off road championships before retiring in March 1973. Then in 1975 he organised the first Classic road race event in the world. Then went on to head up the development of the highly successful New Zealand Classic Racing Register.
Read how in 1985 Hugh returned, with the assistance of Tim Parker, to the place he found so much success. Europe and the fast developing Classic racing movement allowing him to relive his boy hood dreams once more. Pleasure, enjoyment, success and close friendships followed. Winning an International event in the South of France, the English Classic race of the year and five support events at Snetterton and the 1988-89-90 Dutch Classic TT in front of 40,000 enthusiasts were highlights.
Perhaps his greatest personal satisfaction came when riding Roger Titchmarsh's Seeley Weslake, and winning the Bob McIntyre Memorial Trophy at knock Hill in 1988 and, on Fred Walmsley's Seeley G50, winning the keenly contested Mike Hailwood Memorial Trophy at Brands Hatch in 1990. Both of these great riders were contempories and friends, during those turbulent 1960's.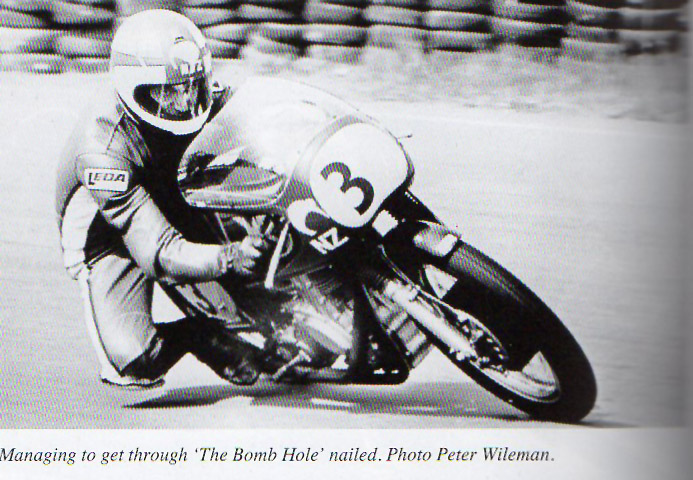 During the 1990's he turned once more to classic racing, on this occasion riding the 1961 500cc Manx Norton he had purchased new on Wednesday 17 May that year and won a major international event at Tubbergen Holland the following Monday. On this Dave Kenah prepared, Kevin Grant owned Norton, Hugh, at 63 years of age, gained second in the 1999 Australian Championship, beating the legendary twice World 500cc Champion Barry Sheene who was some 16 years his junior. In January 2008 riding the same Norton, Hugh beat the current and twice Australian Champion on two occasions and made his fastest ever lap at the Pukekohe race trace. At the time, believe it or not, he was 72 years old.
He has now written this very well received book 'Being There' that has gained perhaps even greater accolades than his amazing career.
---
Alan Cathcart, arguably the best known International Journalist wrote: "This is one of the best books of its kind that I have read. For Anderson's career is a colossus of the sport, both on and off road. Sincere congratulations on compiling it."
Mat Oxley's review of Being There: "A brilliant description of 1960's racing. We are lucky he survived because this is as honest and vivid account of 1960's Grand Prix racing as you will ever read."
Editor of a major classic magazine. "Thank you for writing it and allowing us to feel so close to you. It really is an inspired work, Hugh. What a lesson for life."
Grant Roff, Editor Motorcycle Trader, Australasia: "The wording is absolutely gifted. How Hugh learnt the Isle of Man circuit is riveting. This is a must read. The title is prophetic, I really felt like I was there. This book won't date, it will be as fresh for new readers in ten years' time as it is now."
Paul Owen, International Journalist: "Hugh Anderson rode a technical knife edge. With his crystal clear recall, engaging the reader with a need to know. Reading it is a priceless experience."
Ferry Brouwer, the renowned organiser of major European classic historic events and owner of Yamaha/Classic racing ream: "What a book, what a work, what a memory and written in such a beautiful style. It feels so familiar, it has made me laugh and brought tears to my eyes. Hugh, I applaud you for this masterpiece."
Peter Drakeford, Major Events Organiser for Motorcycling Australia: "It surpasses all other autobiographies I have read."
Kenny Roberts, Wayne Rainey, Max Biaggi: What do these world champions have in common? Christchurch's renowned Mike Sinclair was their chief engineer and a consultant during the development of the Magnificent Britten: "What a great book Hugh. Thank you for taking the time and the work to put it all down on paper, a great manual for future generations of kiwi riders. It's nice to read such a good account by one of the very best."
Paul Traecy, another leading engineer in Kenny Roberts team. Pau's skilful contribution helped the team win four World Championships and he also contributed to the creation of the Britten. "Hugh is unquestionably one of New Zealand's greatest living sportsmen."
Ray Whitham, Sports Commentator: "The prologue is absolutely brilliant. I love your style and your way with words."
Rider's response:
Tommy Robb, Grand Prix winner: "One of the finest sports books I have ever read. Your intelligent approach to racing with a love story included, adds intrigue. I shall read it over and over again."
Stu Avant, World Champion contender: "I'm feeling rather insignificant to be honest. It is such a great story and needed to be told. I now know I was okay, not great, in Europe thanks to your book!"
Stuart Graham, Isle of Man TT winner and European Touring car champion: "You have brilliantly conveyed to the reader the complexity of a real racer's mind. I am also in awe of your amazing recall, a result, perhaps, of your incredible focus and also your legendary attention to detail."
Ivan Rhodes, Author and world authority on Velocettes: "Being There is of such a high standard it deserves to be submitted for an award."
Dallas Rankine, International businessman and major sponsor of riders and motorcycling: "Your book is a fantastic read with so much detail. What a memory. I read all the 'racer' autobiographies but certainly enjoyed yours the most. I will read it again, I think, it is so good."
"It is an amazing story of your life and achievements. Another of your gifts to us."
"Congratulations on writing such a fascinating book. A wonderfully detailed history of your racing career. I could not put it down."
"As I read this, at times tears come to my eyes. It contains so much of what I always wanted to know, but have never seen."
"An inspiration to competitors in any sport."
"Excellent reading, your memory is incredible, what a story."
"Fantastic, enjoyable, insightful. You have told your story superbly. Thank you."
"The title should be Zen and the Art of Motorcycle racing."
"A well written and wonderfully compelling read. The most well illustrated and thoroughly enjoyable motorcycling book I have read. Your ability to focus on achieving your dream was inspirational. Thank you for sharing so much of your amazing life story with your readers."
"Congratulations on a wonderful, well written, evocative and interesting tale. I am so pleased you have put pen to paper, so much history is lost because people don't realise others would enjoy their story. An amazing read from an amazing kiwi."
"Your description of how you learnt the Isle of Man is unsurpassed. To qualify fifth less than 4.3mph below the lap record, set by Bob McIntyre on a Gilera, after just 12 laps practice, this is utterly incredible."
"I don't want it to end! It's such a fantastic book, so well written. What a wonderful memory you have."
"1965, 33rd Milestone, Isle of Man. Couldn't see a b** thing. Fog. Then you came through at speed. Unbelievable."
"Read your book three times, great detail, the best yet."
"The best book I have ever read. So remarkably correct. The human element so often lacking is to the fore in Hugh's story."
Journalists' Comments:
"Hugh Anderson's brilliant riding, never say die courage and degree of professionalism was an example even to the Japanese."
"1964 Ulster 125cc GP – Hugh's bad start, crash and engine stalling problems during the first two laps of the race prompted him to produce a typically dashing display of utter invincibility."
"1965 Isle of Man 125cc TT – Hugh Anderson's progress was almost frightening on that desperate dash. A record and how!"
"1965 Monza – In heavy rain the 125's were wheeled out onto a flooded track. If only Hugh Anderson, never guilty of excessive restraint, could keep his Suzuki upright to win, the World Title was his. He won by over a lap."
"1964 West German 125cc GP – Knocking the lap record silly, Hugh rode effortlessly around World Champions Phil Read and Jim Re3dman and immediately pulled away. Methodical, obsessive, dedicated. Qualities that helped him become four times World Champion."
"Hugh Anderson, most devoted and professional of riders."
"Hugh Anderson, gentleman and Champion, made a clean sweep in the world's most prestigious historic races, making him the unofficial 1990 Classic World Champion."
---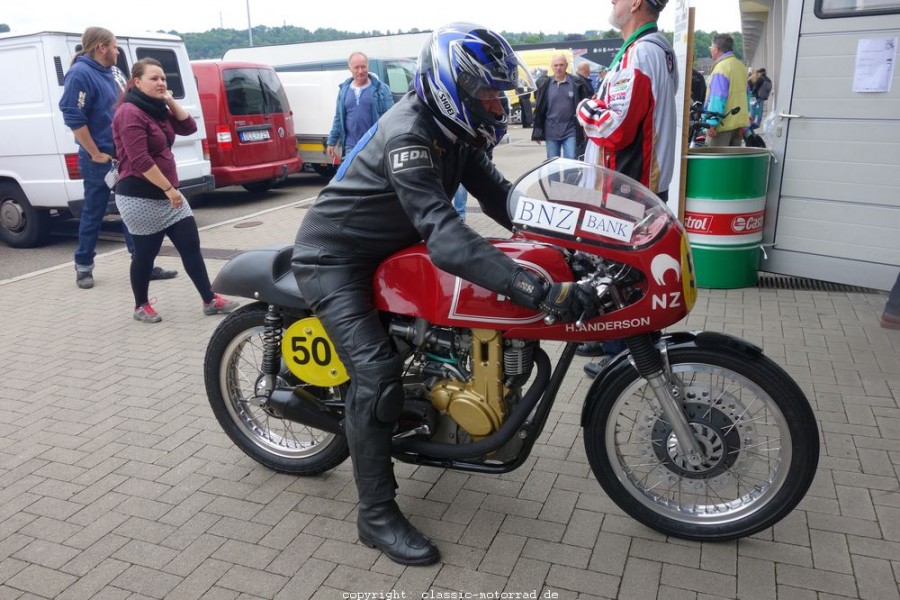 Vertrieb durch:

SMA-Racing, Industriestr.29, 73340 Amstetten

Tel. 07331 9790-0 / Fax. 07331 9790-30

Diese E-Mail-Adresse ist vor Spambots geschützt! Zur Anzeige muss JavaScript eingeschaltet sein! - www.sma-racing.de
Preis: 34,50 + Versand 3,80 innerhalb Deutschland.

Wenn das Buch von Hugh signiert werden soll, kommen 10 Euro Versandkosten hinzu.
---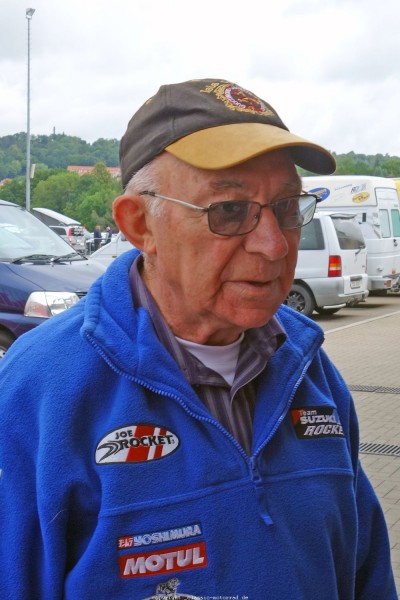 Available from:

Hugh Anderson

Website: www.hughanderson.co.nz
---